Matches Booked on Stoke Bardolph
The club has booked a match on the for pegs
Photo Competition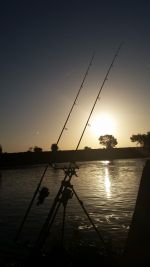 This Photo was submitted
by: Steven Wild
Each year we will be running a members only photo competition. the winner will receive a free membership for the following season. This can be passed on the a friend who is on the waiting list or used by the member.
The Members only photo competition now active, please upload your photo before the start of the new season to in with a chance of winning.
A note to all our members who fish at the Winthorpe venue
FTAO : OF THE OCCUPIER
MAIN STREET HOLME
NEWARK NOTTINGHAMSHIRE
NOTIFICATION OF ROADWORKS
Dear Resident
Scheme Title: Main Street Holme Newark.
Nottinghamshire County Council is shortly due to carry out maintenance works at the above location.
The works will be carried out in the area shown on attached drawing. To comply with the current Health & Safety legislations to protect the public and our own work force, the works will be carried out using a road closure.
 I would ask all residents to plan ahead and consider parking outside the extents of the road closure during working hours which will be 8.00 AM to 1530 PM.
The works will consist of resurfacing the carriageway from the junction of Langford Lane to the full extent of Main Street. The working area will be closed off. Access to the properties will be maintained as far as is possible, however there will be some inconvenience when the work force is working in the vicinity of your property but every effort will be made to minimise the disruption.
During the surfacing works the paving machine will require the full width of the road to lay the new tarmac which will also need time to cure before it can be trafficked so your patience would be much appreciated by the workforce. 
The works have been programmed to commence Mon 02.02.2015 to Fri 13.02.2015 and are expected to take approximately 12 days to complete weather dependant.
The works will be undertaken by NCC Highways If there are any specific events which you feel it may help to bring to our attention in planning the works (for example a wedding on a particular day), again please do not hesitate to contact the writer so that site supervisory staff can be made aware of such events. Lastly, please can I ask that you take care during these works and observe all signs and instructions from the site personnel.
 I do apologise for any inconvenience that the works may cause but please be assured that we will do what we can to minimise these where we can.
Yours faithfully,
Peter Topliss
Senior Project Engineer
Nottinghamshire County Council
---
Welcome to all Ashfield Members and guests, this site is undergoing reconstruction and will not be fully functional until, well until it's finished :-). One good thing is, you will be able to see it in the development stage. If you would like any features to be added then please let me know and ill do my best to include them.
If you are having problems logging in please fill in this form, that includes Bailiffs and committee members. The reason you cant logging to the site is because you must have used a different Username and/or password for your login than what you entered in to the membership renewal form for the 2014 season. All you need to do is complete the short form and ill be able to edit you login details so you can gain access to the members section. this is the reason why I asked all committee and bailiffs to complete the same form as members.
After the last couple of weeks we are now able to accept form submissions, we would like to apologise to anyone who has submitted a form and had no reply. Hopefully the form will now submit and we should start receiving your contact e-mail for such things as the Request Contact Form and Match Booking Request Form.
Anyway, that's all for now, keep it real and tight lines....
AAC Members Secretary, Web Developer.


Most Recent Work Party to be arranged
Go to Work Party list
Venue
:
Winthorpe
Date of Work Party
:
13/12/2014
Comments
Hi All Members, the work part for Winthorpe has now got the go ahead and funds are now in place. We are sorry for the delays and the other two work parties being cancelled. We just need to contact the JCB driver to find out if the 13th of December is ok for him. A reminder to all members who are in their first year, you will need to attend a work party to comply with the club rules for new members. The will be a full weekend and should complete the venue in one hit, you only need to attend for one day but if you could come for both Saturday and Sunday that would be great. Could we try to get as many members as possible as many hands make light work? We would like any member who can attend to bring with them any tools that would help. Things like pickaxe, spades and any other tools that you think could come in handy. Work to be carried out includes building the new pegs on the lake around the Trent bank. If we get more bodies we will finish the other pegs on the lake and Trent, these pegs only need filling with a bit more hard core and topping off with gravel. The section of the road leading up to the Trent after the metal barge will need sorting out so vehicles can access the Trent in all weather conditions. If you are a concession member and you feel that you wouldn't be able to do the manual work, please still come along. The lads doing the manual work would love a cup of tea or coffee from time to time and maybe even bacon butties. I will bring a double burner and ask the bailiff to bring some large kettles and plenty of water. Steve and I will bring the milk, coffee, tea and the bread n bacon. We will ask that you only donate £1 towards the food and drink. I would like to know how many of you intend coming so we can purchase the correct amount of supplies. We will setup the tea area in the metal container next to the lawn swim.
If you are planning on attending please let me know via email Anthony.tierney@btinternet.com or Steve Ashworth on his email at s.ashworth111@btinternet.com
We look forward to seeing you at the work party and I promise you that this one will not be cancelled.
Regards,
Tony Tierney
AAC Members Secretary, Web Developer.